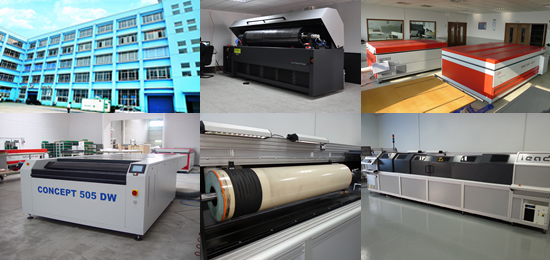 Sinoflexo Reproduction is the subsidiary of Taiwan Sinwa Printech Group, founded in 1971. Sinwa Group is the leading supplier for cable marking rolls in the world. We serve customers in all Asian countries.
In 2000, we started our flexo plate making business in Shanghai. With commitment to develop flexo industry in China, we installed China's first CDI to push the flexo quality to new height.
Sinoflexo Reproductioncurrently has 5 domestic branches: Shanghai , Dongguan, Qingdao , Wuhan and Tianjin . All mentioned branches have plate making facilities to provide local supply.
Sinwa Printech Group has 7 sets of flexo CTP and one set of DLE (Direct Laser Engraving ) system. In addition, we are equipped with all modern plate making facilities in the world. And professional softwares like PackEdge, ArtPro, Colortone and gmg are also applied. We are one the first DuPont Cyrel QA Certified tradeshops in China.
We have experienced and well trained staff with total number to around 120. With perfect quality, Sinoflexo wins major prizes from flexo competitions in China and USA. Sinoflexo Reproduction is the leading flexo tradeshop in China. And we represent the quality of Chinese flexo.